Update: A brand new gameplay trailer for Wolfenstein II: The New Colossus has been released. At just under 3 minutes long it shows footage of Nazi occupied America and the rise of BJ Blazkowicz's resistance. You can see the chaos and carnage unfold for yourself in the trailer embedded below:
Original article continues below…
Wolfenstein is the longest running first-person shooting series of all time. Wolfenstein 3D, released in 1992, was the genesis of the first-person shooter genre, and since then the series has seen seven subsequent releases. 
Back in 2014 the series was rebooted in a big way with Wolfenstein: The New Order. It brought the series up to date in a big way, but it also maintained what's always been great about the series, namely its frantic fast-paced action and over-the-top sci-fi portrayal of the Nazi regime. 
Wolfenstein II: The New Colossus is the follow-up to The New Order. Although a subsequent Wolfenstein game, The Old Blood, was released in 2015, this was more of an expansion pack compared to the original rather than an entirely new entry in the series. 
Wolfenstein 2 looks to be building on much of what made The New Order such a breath of fresh air. It's still based around a tightly focussed balancing act between stealth and all-out action, and the gunplay feels as satisfying as ever. 
We've had the chance to check out the game at a recent hands on event, so read on for everything you need to know about the new game. 
Cut to the Chase
What is it? The latest entry in the long-running Wolfenstein series, and a follow-up to 2014's Wolfenstein: The New Order
When can I play it? October 27 2017
What can I play it on? Xbox One, PS4 and PC
Trailers and Screenshots
Our first look at the new game came when it was announced at Bethesda's keynote at E3 2017. The trailer starts a little oddly with a couple of live action segments set inside the Wolfenstein universe, but before long it cuts to some in-game footage, complete with plenty of gory Nazi-killing action. 
Recently another trailer has been released that shows off the American diner scene from the game in a little more detail. Check out the . 
Bethesda has also put out a couple of videos featuring interviews with the developers of the game, outlining more of its central concepts. You can view those trailers and . 
You can find a number of screenshots from the game below, which show off a little more of the game in greater detail. 
Image 2 of 9
Image 3 of 9
Image 4 of 9
Image 5 of 9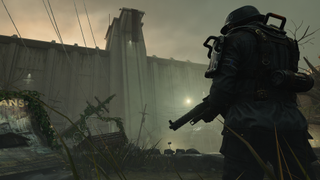 Image 6 of 9
Image 7 of 9
Image 8 of 9
Image 9 of 9
News and features
Bethesda appears to favor very small windows in between the announcement and release of its games and Wolfenstein II: The New Colossus is no exception. However having such a small preview window means relatively little is known about the game at this point. 
The game seems similar in many ways to its predecessor, The New Order, but we've outlined the main changes from the original below. 
It's set in a Nazi-occupied America
Whereas The New Order was set in a Nazi-controlled Germany, The New Colossus takes the action to America, which the Nazis have occupied after successfully winning the second world war. 
It's an evocative setting to say the least, with swastikas and Nazi imagery juxtaposed with small town America. Klansmen can be seen openly walking the streets, and making small talk with Nazi officers. 
It's one thing to see these symbols in a German setting, but it's quite another to see them alongside an American diner, for example. It's an interesting premise that gives the game real bite. 
We're interested to see what Machine Games does with this evocative setting. It's one thing to be provocative, but the team will have a challenge on its hands if it wants to deliver on these ideas. 
Mix and match dual-wielding
A key feature of Wolfenstein: The New Order was the way you were able to dual-wield weapons, allowing you to double up on damage even if this did mean you'd burn through your ammo twice as fast. 
Dual-wielding makes a return for Wolfenstein 2, but this time it's a little more versatile. Rather than simply dual-wield two of the same weapon, the new game will allow you to mix and match whichever weapons you choose. 
This is especially helpful in the game's stealth segments where we'd use a silenced pistol as our primary weapon and a machinegun as our secondary. This loadout allowed you to switch to a full-on assault mode much more quickly when we were inevitably discovered. 
Alternatively you could try combining a shotgun with a rifle to allow you to tackle enemies at both short- and long-range. 
Hatchet take downs
Wolfenstein has never been a series that shies away from a little blood and gore, and Wolfenstein 2 continues that bold tradition with the addition of a new hatchet melee weapon. 
There's not that much more to add to the inclusion other than to say that its kills look horrendous in the best way possible. You can use the hatchet as both a…